Discussion Starter
·
#1
·
Well I got the new lady out on the track for the first time yesterday and had a stinking blast! Bike had about 850 miles on it and I pretty much rode it how I wanted without concern, though I'm not as hard of a rider as many. For this being my first sport bike in over 10 years and just getting it a month ago, I felt like I did well. Heck, I put it in Race mode for the first time just before the first session!! The best news of all is the bike left in the shape it got there less the tires being a little thinner. The only bad news is that I had bought an "open box special" Sena Prism (GoPro competition) and it did not work, so no video... and I got a little trailer rash on the way down there. Long story but it got rubbed by a sharp edge for a while, nothing a good body guy/painter shouldn't be able to fix.
I rode with the factory suspension set-up for most of the day. Prior to the last two laps, I had the suspension tuner guy/ professional at the track adjust my suspension (what the heck for $40). I'll post more in the one of the suspension threads but I'll say this, I wish I would have just left it alone... might have just been my comfort with where it was or the fact that it was late in the day and I was starting to lose the energy to push it hard but I rode better on the stock set-up. I had him change something before I left but did not get to track it again. Gives me a project to mess with for the next few weeks.
I ran in the novice group and ultimately ran faster than most. This bike is just so confidence inspiring!! The pain of getting stuck behind the incredibly slow (and track rules are no passing on the inside and arms length away) was balanced by the few more experience trackers in the group that provided more challenging targets to get around. I ran my best on the 3 and 4th goes for sure. The lunch break let the energy level drop too much, I wish we would have just skipped that, I had plenty of time to eat between sessions and was there to ride! There's another track day here in 2 weeks that I am thinking of doing it again!
The track photographer probably won't have the pictures up for 4 or 5 days but here are a few phone pics and I'll post the others when they are available.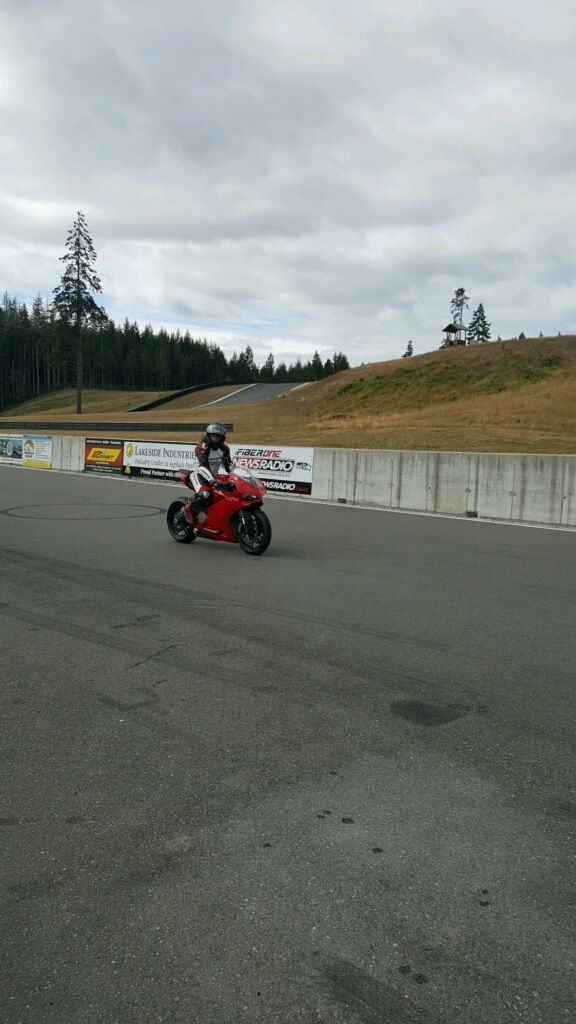 Track was just under 2.5 miles, 16 turns, and 300 feet of elevation change. Its uphil from 2 to 4 and 9 to 11 and downhill is all pretty much from 13 to 15! Makes for an interesting "corkscrew" just before the front straight away.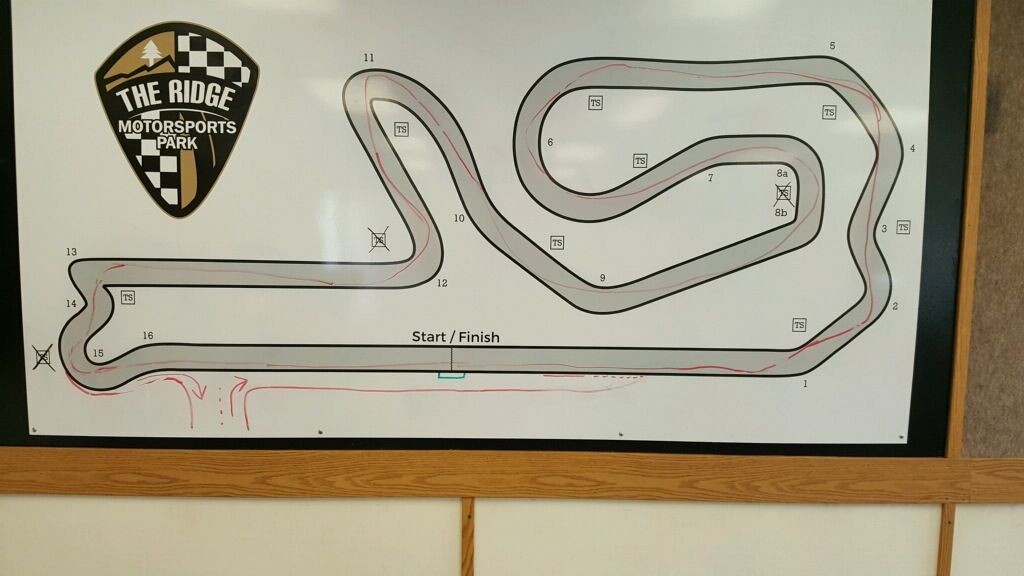 This was the top of the big down hill, picture doesn't make it look as steep as it felt!
The factory Pirellis are awesome! They just stick like glue and seemed to warm up quickly to me though its probably that I just really didn't push them ever as hard a good rider! Though its clear that you are certainly giving up long life for stick!
My buddy (in the black suit) rode a KLM 1200 Adventure bike with 3 year old, standard street tires on 19" spoked wheels! He rode in the intermediate group and pretty well lead the pack... he was hitting 150 on the front and running sub 2 minute laps which is flat hauling. (Lap record is 1:38.8 .) To be fair, apparently he raced professionally for about 10 years (15+years ago). It was impressive to watch him throw that things around!